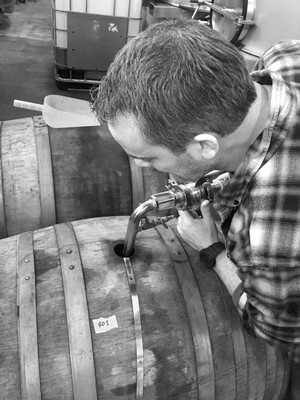 About the Winemaker – James Frey
With an undergraduate degree in Exercise Physiology from the University of California, Berkeley; a Masters in Exercise Physiology from the University of Arizona; and an M.B.A. from the University of Arizona, it seemed unlikely that James would end up as a winemaker or as an abstract expressionist painter. Nonetheless, James eschewed his education and taught himself to be a winemaker and a painter, having never in his life taken a class in either.
Despite being self-taught, in both 2013 and 2014, James had three different Pinot Noirs and Riesling on three different Top 100 Wines of the Year lists; in 2015 one of his wines was named the #3 wine in the world by Wine Enthusiast; in 2106, his wine was served by President Obama at the White House during a state dinner honoring the heads of state of Norway, Finland, Iceland, Denmark and Sweden; and in 2017, one of his Rieslings was named the #11 wine in the world by Wine Enthusiast while Vinous praised his inaugural Pashey sparkling wines.
From 2013-2017, Burgundy producer Maison Louis Jadot made their Oregon wine Resonance at Trisaetum where James worked alongside winemaker Jacques Lardiere. Since 2013, James has also partnered with Walla Walla winemaker Chris Figgins of Leonetti, Figgins and Toil to trade Willamette Valley fruit for Walla Walla varietals that James uses for his 18401 Cellars wines.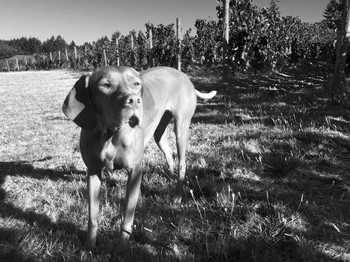 Winery
In early 2006, James Frey, with invaluable help from noted winemaker Josh Bergstrom, began work on the design of Trisaetum's winery. From the outset, the goal was to construct a facility that allows a winemaker to blend old world tradition and new world innovation.
After several months and nine drafts, a floor plan and design philosophy were eventually turned into the 13,000-square foot facility that exists today.
Cold Room
Pinot Noir requires a greater degree of sensitive handling than other varieties. When Pinot Noir berries at warm temperatures are placed into a destemmer, the fruit is easily mashed and tannins are less desirable. White wines, whether it be Riesling or Sparkling varieties, produce more undesirable phenolic characteristics if pressed warm. Therefore, our winery contains a 600-square foot cold room that can be chilled to 35 degrees. All harvested
fruit is immediately placed in the cold room to chill, and sorting or pressing only begins after the fruit has reached a temperature of around 40 degrees.
Fruit Sorting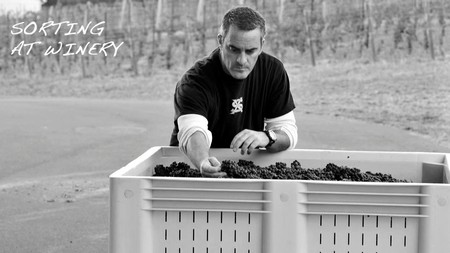 Trisaetum has at its disposal a 6-stage fruit sorting system that is utilized to ensure only the best berries from the best clusters become part of our wines. The process begins with the tote dumper after the fruit has been adequately chilled. The whole clusters move down a shaker table that spreads them into a single layer prior to passing through a vacuum system that removes leaves, bugs, twigs, and other non-grape matter. Following the vacuum, the clusters move through an air knife to ensure the fruit is dry to avoid dilution in the final product. Then, the first of two manual sorting tables is utilized to select only the best clusters (sub-par clusters are removed, recycled, and returned to the vineyard as compost). The chosen clusters are then moved to an elevated destemmer where they are separated into berries and stems. The stems are returned to the vineyard as compost and the berries move on to a second sorting table where individual berries are inspected by hand and any unripe or raisinated fruit is removed. In the final stage of the process, the selected berries are placed into fermentation vessels and moved into the tank hall. Given the unique double-sort line, the fruit sorting process at Trisaetum can often take up to two times as long as other facilities, and can involve up to 15 people.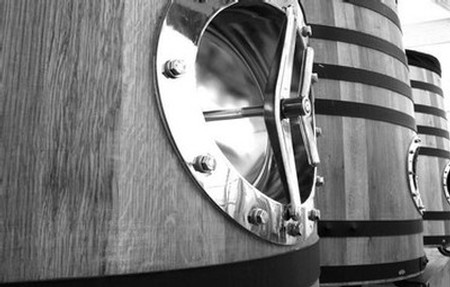 Tank Hall
Pinot Noir fruit is fermented in 2-ton oak fermenters and mix of 3-ton and 4.5-ton stainless steel vats that line either side of the 65-foot long tank hall. For us, using smaller fermenters is preferred as we feel we have greater control and closer interaction with the fermentations. A mixture of 100% whole-cluster and 100% destemmed fermentations are employed; with the relative mix of each dependent on the vintage and the ripeness of stems. Once fermentation begins, a mix of pump-overs and hand punch-downs are employed to manage extraction. Destemmed fermentations will often go through extended macerations while whole-cluster ferments are typically pressed when dry and moved via gravity-fed channels to the barrel cave below.
Riesling fermentations occur mostly in neutral French oak barrels with a few concrete eggs added into the mix. No tank ferments are utilized. In a typical vintage, around 100 individual ferments are monitored and eventually blended into the eight different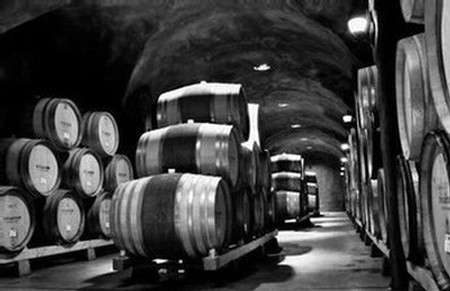 Rieslings Trisaetum releases each year.
Barrel Cave
After harvest, Pinot Noir is cellared in French oak barrels within the 100-foot long barrel cave at Trisaetum. The subterranean cave holds a constant temperature and humidity throughout the year and provides an ideal environment to age wine. Depending on the vintage, Pinot Noir can be barrel aged from 10 to 22 months before bottling. The cave also houses sparkling bottles on tirage for a minimum of three years.